EVERGREEN EDUCATION FOUNDATION
BRINGING EDUCATIONAL OPPORTUNITIES TO RURAL CHINA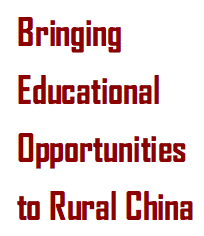 The Evergreen Education Foundation is a US based non-profit organization with a strategic focus on improving education for children and young adults in rural China; promoting information literacy via school and community libraries; and serving as a bridge between China and the world in joint efforts to better the rural education.
Latest News
---
December 2017

See our 2017 newsletter

>>

December 2016

Programs and PPTs of ITIE2016 Beijing, Shenzhen, Guangzhou, and Wuhan are available for download

>>

June 2016

Design & Create: ITIE 2016 Makerspace Contest opens to middle and high Schools

>>

March 2016

💖SUPPORT OUR TEACHERS💖 Evergreen campaign on GlobalGiving started on March 14th

>>

January 2016

Tune in for our upcoming announcement on Information Technology In Education Conference 2016 - Makerspace: Creativity in the Library

November 2015

2015-2016 scholarship students announced

>>

October 2015

2015-2016 small projects are running

>>
Evergreen Education Foundation is a 501(c)3 non-profit charity registered in California, United States. Registration number 68-0474814.