Access to Learning Award 2004
China Evergreen Rural Library Service Center received the "Access to Learning Award" by Bill and Melinda Gates Foundation in 2004 for works with public high schools in remote regions in China to develop and automate access to library collections, create computer labs for the entire community, and offer training to townspeople in remote areas of China.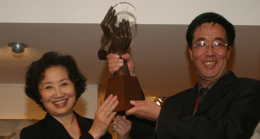 Given each year by the Foundation's Global Libraries initiative, the Access to Learning Award (ATLA) recognizes the innovative efforts of public libraries or similar organizations outside the United States to connect people to information through free access to computers and the Internet.
中國青樹農村圖書館服務中心於2004年榮獲蓋玆基金會頒發的 "學習管道獎",該獎表彰中國青樹農村圖書館服務中心幫助中國邊遠地區的公立學校圖書館包括管理電腦化在内的現代化發展,以及設立為當地人士服務的電教室並提供培訓。
每年一次的"學習管道獎"從屬於蓋玆基金會的"全球圖書館計劃"表彰美國之外的國家和地區的公立圖書館及相應組織在使用電腦和互聯網為民衆提供免費信息中卓有創意的工作。
Click below links to learn more / 點擊以下鏈接了解更多:
Evergreen Education Foundation is a 501(c)3 non-profit charity registered in California, United States. Registration number 68-0474814.